We like to be as transparent and open as possible. This is why we thought you might like to know what sort of things we are up to in our neighbourhood, who we're talking to and why. If you wish to discuss any of these ideas you can bring them up at our next AGM, or send us an email to admin@suslife.uk anytime. Alternatively, get involved in your community directly and come along to one of the many Friends/Forum meetings in your neighbourhood.
Stirchley Primary School
We have donated a variety of leftover craft items from the DCMS project Interactive Woodland Adventures to the local primary school. These included silk leaves, dice, wooden acorns, wooden star ornaments and more.
After the Ten Acres Plum Festival (Funded by the West Midlands Combined Authority) we had a few schooltastic leftovers! These included kids scissors, paintbrushes, glue sticks, fruity stickers and crayons. These have all been donated to Stirchley Primary School in the new school year.

Ukraine Crisis
We donated a variety of bushcraft equipment to the Moseley collection including first aid supplies, camping mats and an all season military sleeping bag, some basic food supplies, candles, tealights and a power bank.
We also spent time at the Stirchley Primary School bake sale making Ukraine flag badges with children to help raise money for their Ukraine crisis collection.
We had plenty of badge supplies leftover so we agreed to do badge making at the fair for ukraine set up by local families. To help market and support this fair we provided free design services, converting an existing design into printable vector design and creating alternative versions of the design for an outdoor banner. We then also paid for the professional printing of these posters totalling one outdoor banner, 250 A5 leaflets and 60 A4/A3 outdoor posters. We also provided a vectorised logo redesign for the Selly Park Baptist Church for free as part of this process.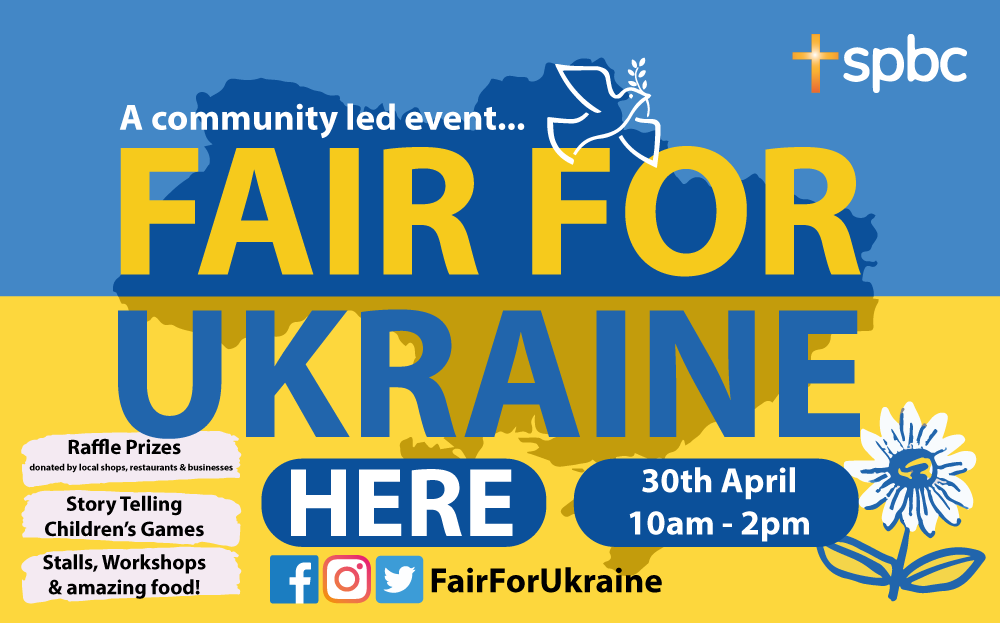 After the fair we still have badges leftover! Another community event called Ukes for Ukraine asked for 30 premade Ukraine themed badges so we sent some over to them in the post free of charge too.
For the plum festival we helped out the Ukraine stall (ran by the same group) by providing them with a range of our own hand made crystal earrings and 10 pots of Ten Acres plum jam for people to buy and sample at their stall.