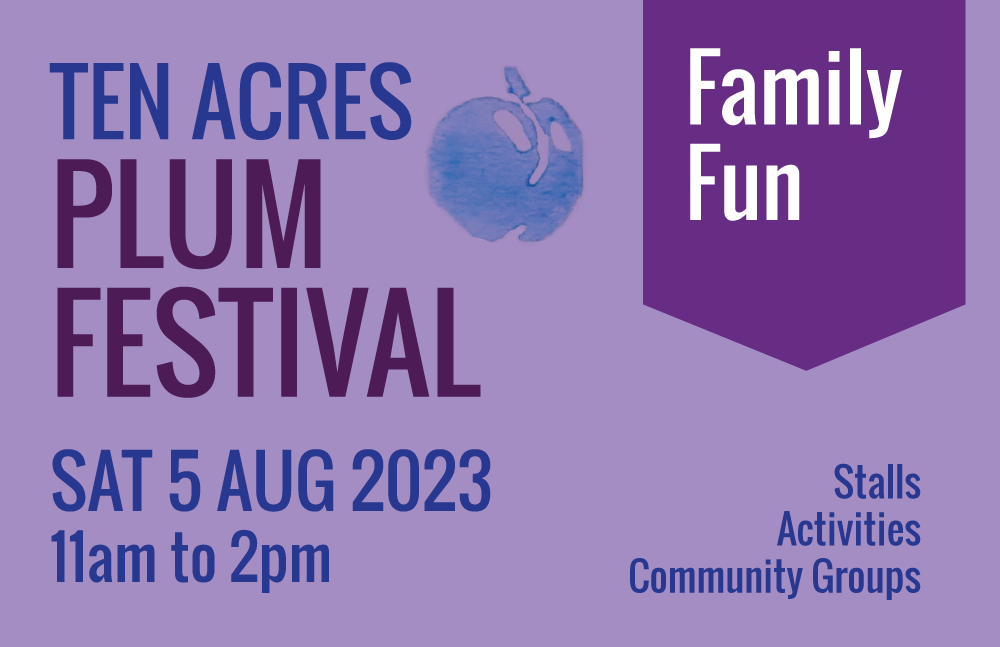 Help us to fundraise for this project
https://www.crowdfunder.co.uk/p/ten-acres-plum-festival-2023
Ten Acres Plum Festival
We need to raise a total of at least £570 just to cover the council cost of using the park for the event. If we can raise more for a range of free activities and games that would be great. We'd also ideally like to rent a portaloo for the day too.

This is a vibrant celebration festival of the Ten Acres Stirchley Site and the River Rea including a range of family friendly activities such as dance, drama and art/crafts. The festival will highlight the local areas beauty and abundance with a focus on the two large plum groves on site and will include walks, tours and conservation workshops/activities.

Last year was a huge success with many stalls including face paints, dance (happy feet), support for ukraine, sustainability, river health expert harry gray, rock painting and more. However, this year we have booked the event to allow businesses/sole traders to also take part.

If you have a free community idea or activity you'd like to run at the festival, you can still get a stall for free! Just let us know.
If you wish to sell anything at the plum festival, there is a contributory fee of £20 to help cover the extra costs from BCC. Please email for booking information at fota@tenacresconservation.co.uk
The field we are using will be 'Middle Meadow' again, which is at the top end of the site. This field has the river rea route on one side and is surrounded by wooded areas and a mound at the back.
Vehicles can access the area by using the back alley next door to the chippy – but we ask all stallholders to only use this to unload stalls and to park elsewhere during the event as this is a residential access.

If you wish to be involved please do get in touch as soon as possible so we can book you in and start advertising your stall!